Provide Massage Chairs with Entertaining Elements
In pursuit of "truly valuable product," Inada formed new ideas into a form of massage chair one after another.
While continuously pursuing "massage" such as kneading and tapping, Inada kept thinking about massage chairs not only for body pain and ache but also from a broad perspective of "Healing."
In 2001, one of Inada's thoughts took a concrete shape.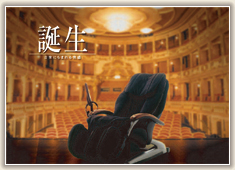 "Medical Chair H.9" developed through repeated research in pursuit of alleviation of not only physical body but also mind that provides massage in conjunction with music you like and makes you feel good, changed the concept of massage chairs.
The "Medical Chair H.9" was selected "2001 Best Invention of the Year" in "TIMES" magazine in the U.S. and attracted attention as a unique product.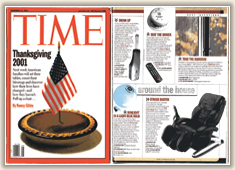 Also after that, the "Voice recognition function" that operates the chair in response to voice, "Joystick function" by which you can manipulate running rollers as you like with a stick, and "Swinging Function" that swings the buttocks for alleviation were developed.
Recently, the "Rocking function" that rocks the chair for alleviation and "Full body running 8-roller mechanism" that massages the full body with running rollers were developed.
I want to make products which all family members can use without losing interest in and want to use before getting tired not after.
I want to make massage chairs that not only massage but also be enjoyable to use and demanded by customers.
And more than anything, Inada's thoughts to make products that contribute to human health changed into new and valuable products one after another.
Moment he come up with an idea, and his challenge will continue
Inada talked about the moment he came up with an idea as follows.
"I come up with an idea like being whispered at a moment by accident while I am thinking strongly over time. That comes out in my dream or while I am traveling by air. That is told at a moment by accident. That's why I will not stop thinking, and I enjoy drawing my inspiration more than anything. Ideas come out one after another."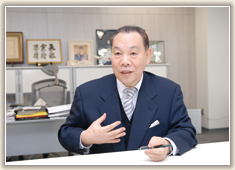 "Massage chairs are valued for its comfort.
In this stressful society, we need not only alleviation of pain and ache of the body but also comfort in daily life. Feeling comfort amplifies alpha waves and this leads to an increase in the natural healing power of the body. I think that there is nothing but massage chairs to meet these demands.
I want to make really effective and comfortable "genuine massage chairs."
I think that I have kept this thought, that's why I have been able to carry on the company's business for a long time of 50 years.
I am convinced that massage chairs can be useful for human health around the world.
This is why I will continue to make massage chairs for people's smile." 
Challenge of Inada who is talking with shining eyes will continue.
(THe End)
Overseas Sales Dept.
tel.+81-6-4807-9271
Copyright © 2013 Family Inada Co., Ltd. All Rights Reserved.