A massage chair becomes a presence
that supports the "health" of your family.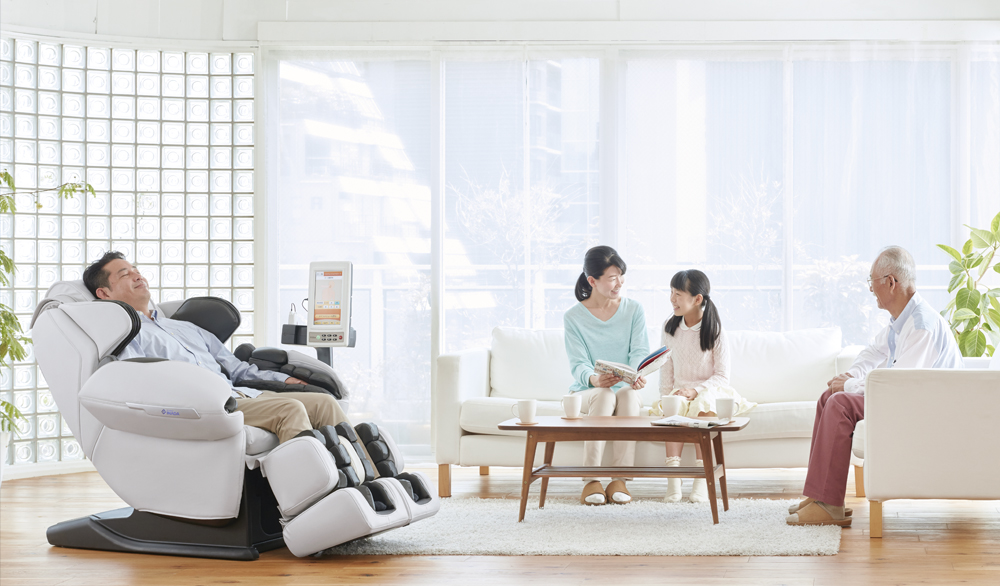 Supporting your family's health with a massage chair.
54 years of accumulated experience and FAMILY INADA arrived at the answer.
Becoming a necessity of life that has continued to support the "health" of each and every person,
while embracing your family's life with a "good feeling."
The future of home medical care has begun with "THERAPINA."
THERAPINA comes in two models,
select by feeling and function.
THERAPINA HCP-LPN1000

With a full-function "artificial intelligence system" and a "communications network"available in Wi-Fi models, this is the flagship "THERAPINA''model.

THERAPINA HCP-LPN9000

Featuring the "artificial intelligence system" and "communications network" at a reasonable price, this is a light model that realizes complete massages and health management.

8-axis Al mechanism (Right and left independent automatic control system built in. )

Not only is massage strength controlled by the artificial intelligence mechanism according to stiffness (hardness) of muscles, but massage balance is also automatically adjusted by the "8-axis Al mechanism" according to the difference in stiffness conditions at both right and left sides of the back.
*1: Generic name for muscles in the posterior region of the thigh such as biceps femoris muscle, semimembranosus muscle, and semitendinosus muscle.
*2: Equipped with a massage mechanism which provides movements from the back of the neck to the buttocks and a massage mechanism which provides movements from the thighs to the calves. Each has independent vertical operation control. (Internal study as of July 2013)
Copyright © 2013 Family Inada Co., Ltd. All Rights Reserved.