Way to rebirth of a company
Inada was driven into a corner and troubled.
Helplessly, Inada went to a customer manager for consultation just like trying to catch straws.
That person personally cared for and gave guidance to Inada.
There, he told a story about a president who had been troubled over management like Inada.
When the couple was having a last drink before ending their lives, the wife said,
"Now, we can die. But if we were dead, there would be no tomorrow, so we should live!"
With those words, the president exerted himself to start over and rebuilt his business splendidly.
Inada thought this story was great, while his concern about financial difficulties and bankruptcy staring at him in the face remained unresolved.
"What could I possibly do?" He left for home depressed. While driving his car, his hands holding the wheel were shaking uncontrollably, and he could not ease his concerns as he thought more about the future.
Strangely enough, it happened when he stopped at a red light.
All his concerns blew away in the blink of an eye at the instant when the light turned green and he put his foot down on the accelerator.
It was the moment he decided to start over again from the beginning.
Inada looked back at that time and said: "Why did my feeling change in a moment? I think it was partly because I had heard the story about a person of similar circumstances and that person's comeback but mainly because my strong desire to see the rebirth of my company acted unconsciously."
Ties with employees and promissory letter
Feeling refreshed, Inada soon came back to the company and spoke to the employees by laying everything on the table. Discussions continued nearly through two days and nights.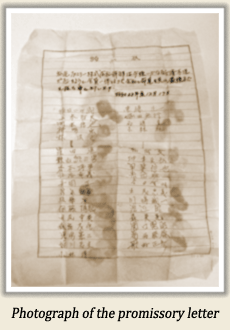 At that time, most of the words from employees were complaints against Inada's self-conceited management.
Inada knew what the employees really felt and apologized from the bottom of his heart.
On the other hand, the employees accepted to start over and exchanged a promissory letter with that vow in mind.
Then, he turned a new leaf and visited banks and suppliers to ask for understanding together with his employees.
Closed-minded counterparties turned soft gradually, and some companies delivered parts saying, "OK. We will deliver immediate parts at least." And banks allowed access to the accounts with the result that the company started moving in the right direction.
The whole company together with employees started to advance toward the same goal of rebirth, so that they could avoid bankruptcy.
Inada felt acutely aware that only one person could never run a company, and how important it is to run the company together with employees as one.
Overseas Sales Dept.
tel.+81-6-4807-9271
Copyright © 2013 Family Inada Co., Ltd. All Rights Reserved.