Newly Developed AI Stick + AI Massage Mechanism
AI Stick & AI Massage Mechanism
It's like a magical stick,with sensory operations to give you the massage you want
The points and intensity of the body stiffness differ from person to person.
Equipped with an AI stick that fine-tunes the AI massage mechanism to move just a tad one way or another, to move just a little up or down and to make fine adjustments to the strength, allowing you to get the massage that suits you best.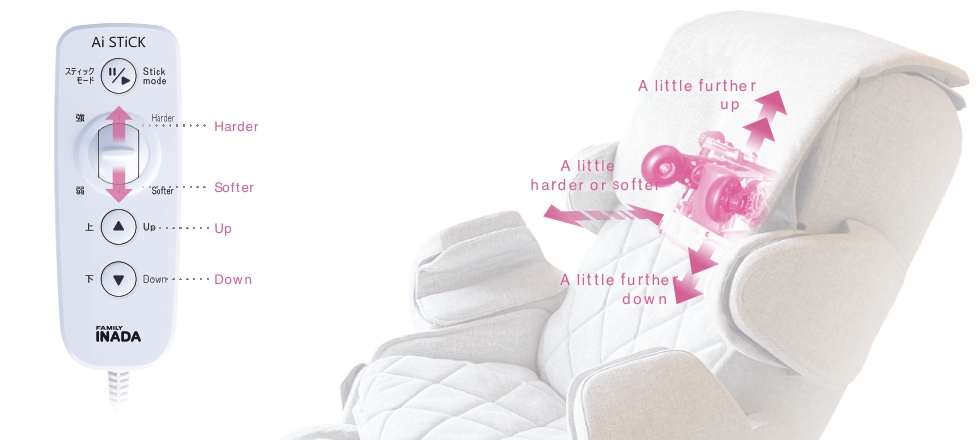 With an AI stick, you can communicate your personal preferences!
Freely operate the chair as many times as you like to meet your physical condition, even in the middle of a set program. You can get a massage to match your desired strength, and pinpoint areas of stiffness, allowing you to obtain more satisfying and relaxing effects.
AI Sole Mechanism
AI Sole Massage Mechanism
AI sole mechanism promotes blood circulation throughout the whole body
In addition to the compression effect of conventional air massage, "AI sole mechanism," a new technology equipped with protrusions that directly stimulate foot pressure points (Yusen and Sokushin), promotes blood circulation from the feet to the whole body.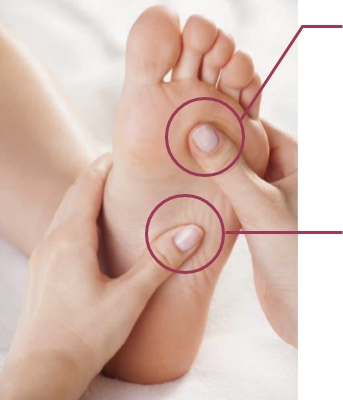 Yusen
These are pressure points at the top of the soles of your feet. Applying pressure to them offers you a pleasant experience and this treatment is popular among women.
These are said to be very important pressure points in the sense that our life energy springs forth from this part of our body.
Sokushin
These are pressure points at the centers of the soles of your feet. Applying pressure to them can revitalize our kidneys, can relieve tension in the body, and improve our physical and mental states.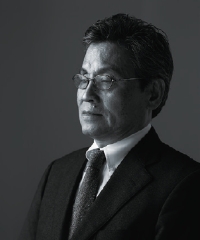 Visiting Professor of Kansai University of Health Sciences
Massage Supervisor
Mr. Hideyo Matsuura
Director of Matsuura Acupuncture Clinic and Visiting Professor of Kansai University of Health Sciences.
Mr. Matsuura has been a leader in field of acupuncture for more than 40 years. He is also highly trusted by top athletes and has a high reputation as one of Japan's leading therapists. Mr. Matsuura is also known as the "therapist with the hand of God."
Program Menu
Calabo's Newly Developed Massage Program
Supports a healthy life by offering 6 massage programs with consideration to the best kneading comfort and health maintenance.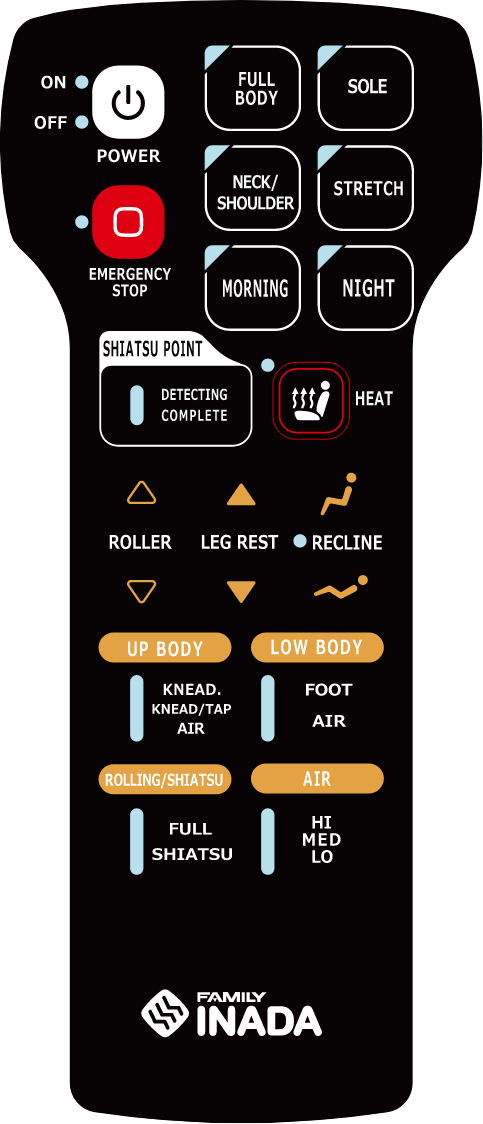 STRETCH
Approach to good posture to create good health
This is the Family Inada's unique program for stretch focused on "posture" and focuses on intentionally stretching your abdominal muscles and your entire back to increase your body's flexibility and balance.
SOLE
Sole refreshment
In addition to the conventional air massage, the newly developed AI sole mechanism stimulates the pressure points of your feet by pushing in three-dimensional movements, and helps you to approach good health from the soles of your feet.
MORNING
Defence body
This newly developed health maintenance program focuses on promoting blood and lymphatic flows.
This promotes recovery from fatigue and helps to relieve fatigue and stress.
NIGHT
Activity body
This newly developed physical conditioning program promotes blood circulation throughout the entire body, and quickly activates your body. This supports to motivate you and bring you vitality.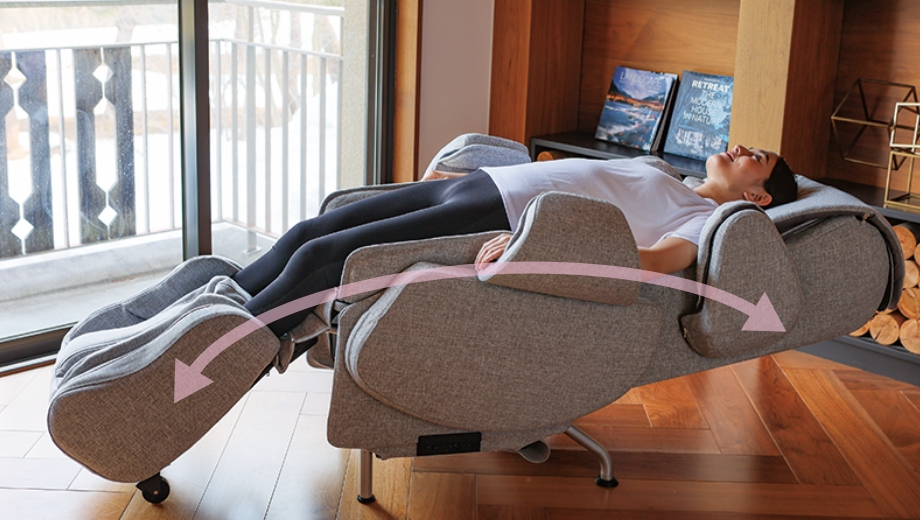 Full Body Bending Movement
Stretches your abdominal muscles by raising the mechanism at your lower back while greatly bending your entire body backward by lowering the foot mechanism and reclining the recliner portion.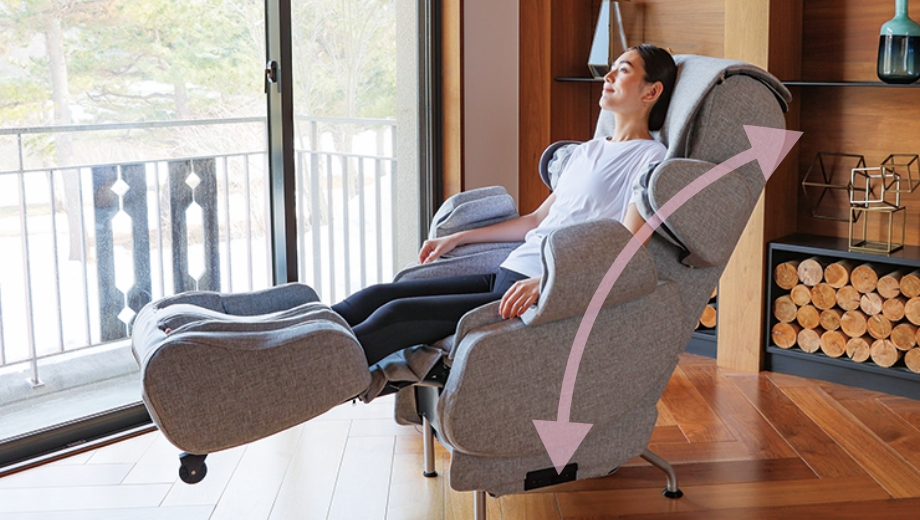 Posture Stretch Movement
Stretches your posture by creating a large arch across your entire back, and also stretches the back of your thighs by raising the foot mechanism.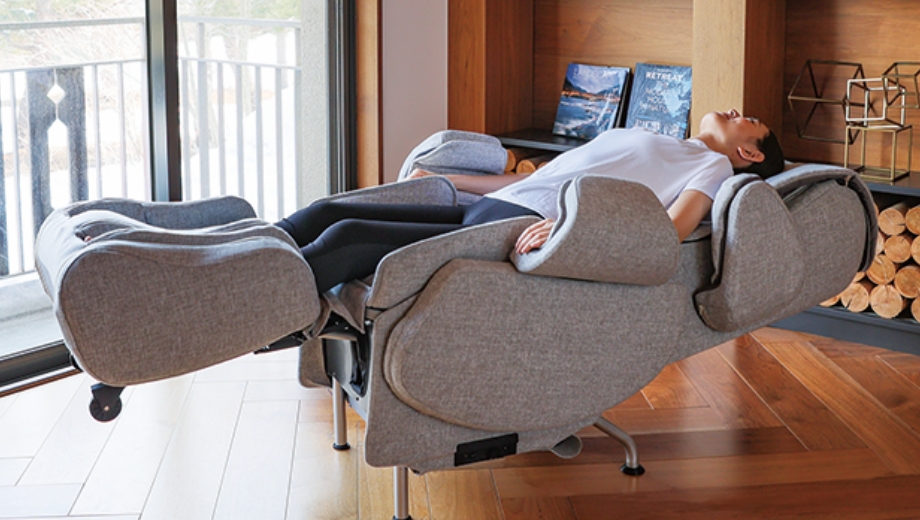 Full Body Stretching Movement
This offers balance to your muscles by stretching your entire body to soften your muscles.
Designer Inada Chair
Designed to fit any interior by an interior designer
"I want an authentic massage machine, but I want it to match the interior of my room…"
We focused on attaining a furniture-like design including its colors, fabrics, and forms and the like to fit living spaces.
Starting today, your home is your relaxation salon no matter what your lifestyle is like.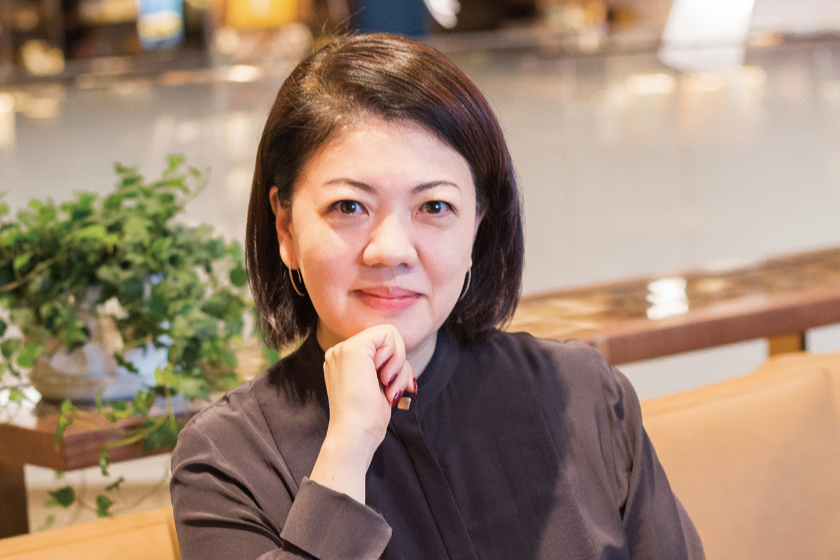 Interior Designer
Design Supervisor
Ms. Tomoko Ikegai
Established ikg inc. in 2006 after working in an architectural design office.Has been involved in the design of commercial facilities such as "Futako Tamagawa Tsutaya Electrics" and "B&B ITALIA TOKYO" and residential designs. Winner of countless awards in Japan and around the world.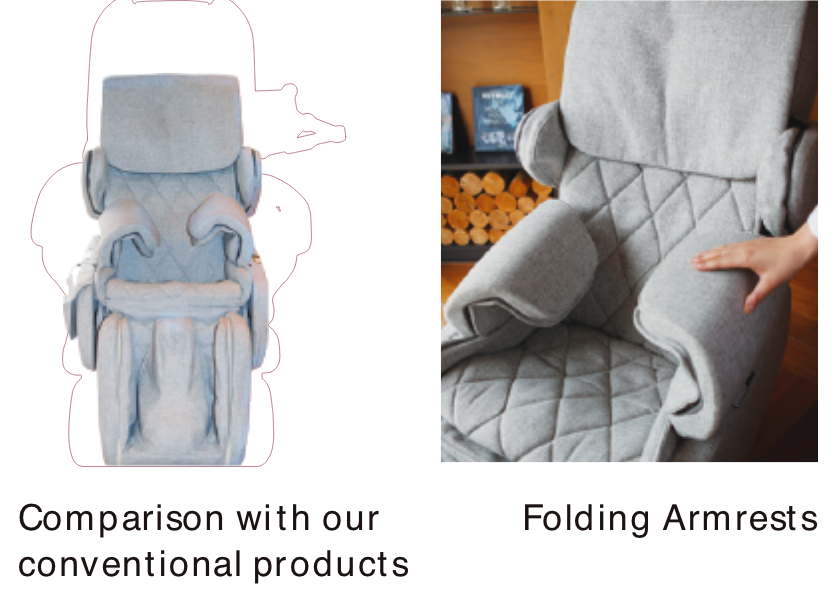 Overwhelming space-saving design with authentic massage functions that utilizes space
In response to concerns such as "wanting an authentic massage function, but not having much available space in the room," or that "the massage chair is too large to be moved or installed," we have attained a compact space design of the smallest class for our authentic massage machine.
2021
Awarded the Intellectual Property Achievement Award,the JPO Commissioner Award for Active Utilization of the Patent System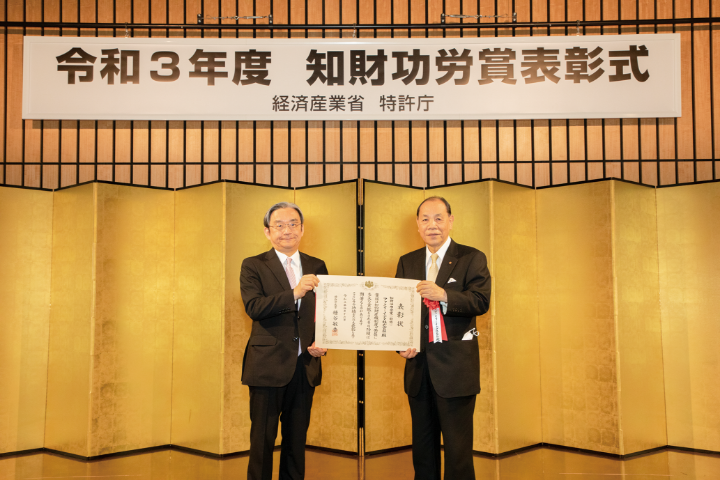 The following points were highly regarded.
(1) Speedily executed intellectual property strategy that directly reflects the intentions of management as an organization under the direct control of the company President.
(2) Based on an open-close strategy, the basic patents are publicized and licensed to competitors, while patents relating to leading technologies such as massage mechanisms and AI/IoT that replicate human touch are monopolized and competitiveness is maintained.
Awarded the CES Innovation Award
Received an award for a groundbreaking invention, at CES (Consumer Electronics Show), the world's largest consumer electronics show in Las Vegas. Awarded five times; 2001, 2004, 2005, 2009, and 2010.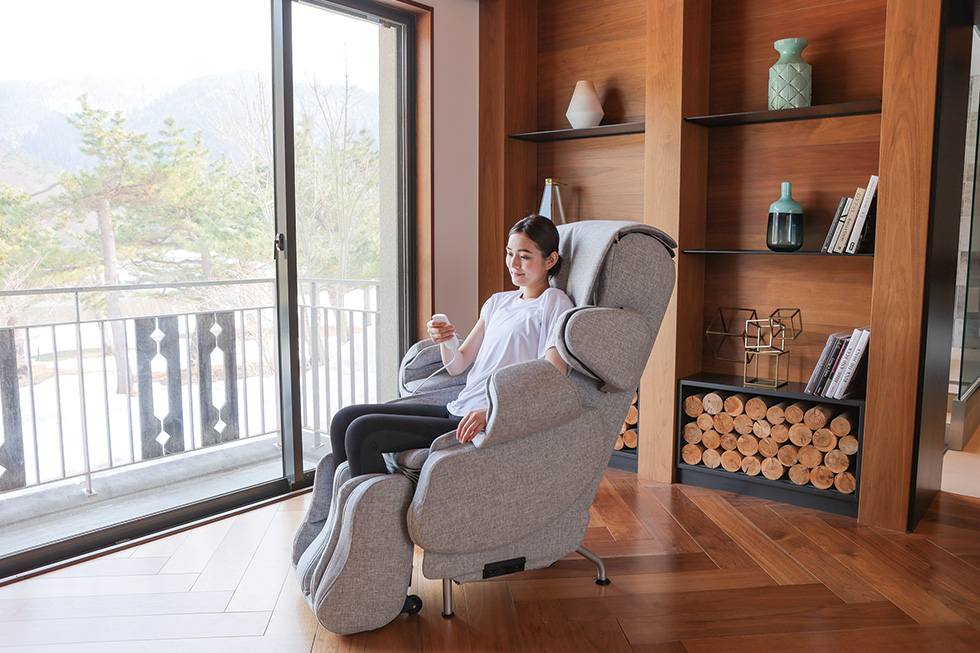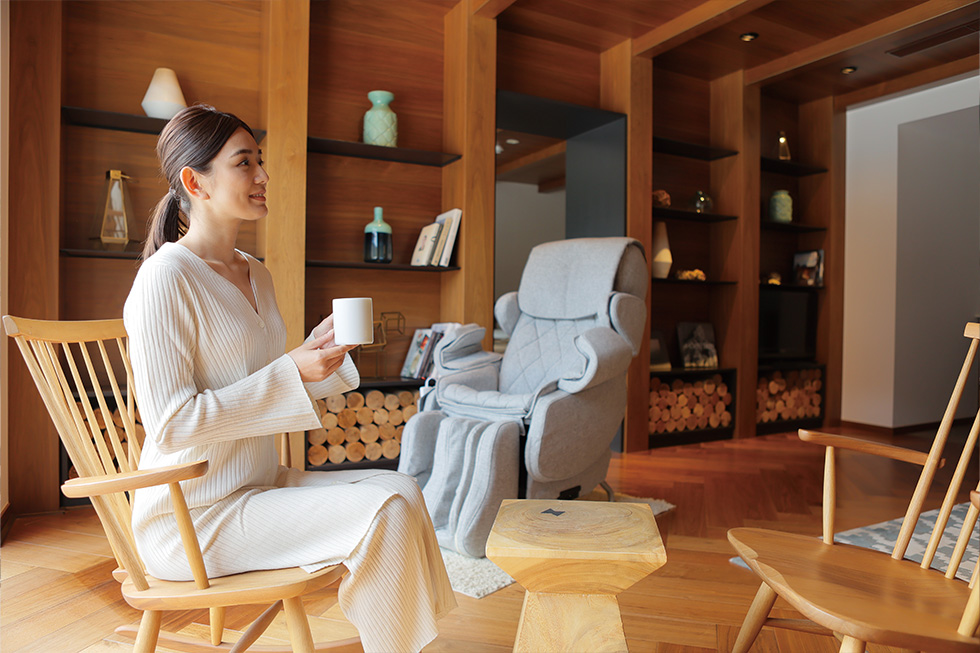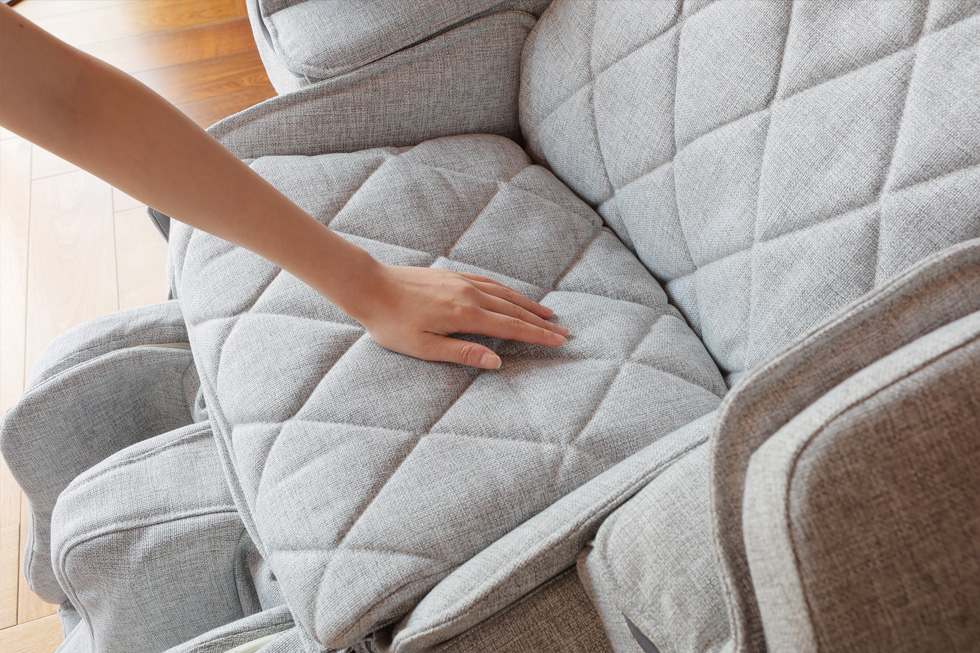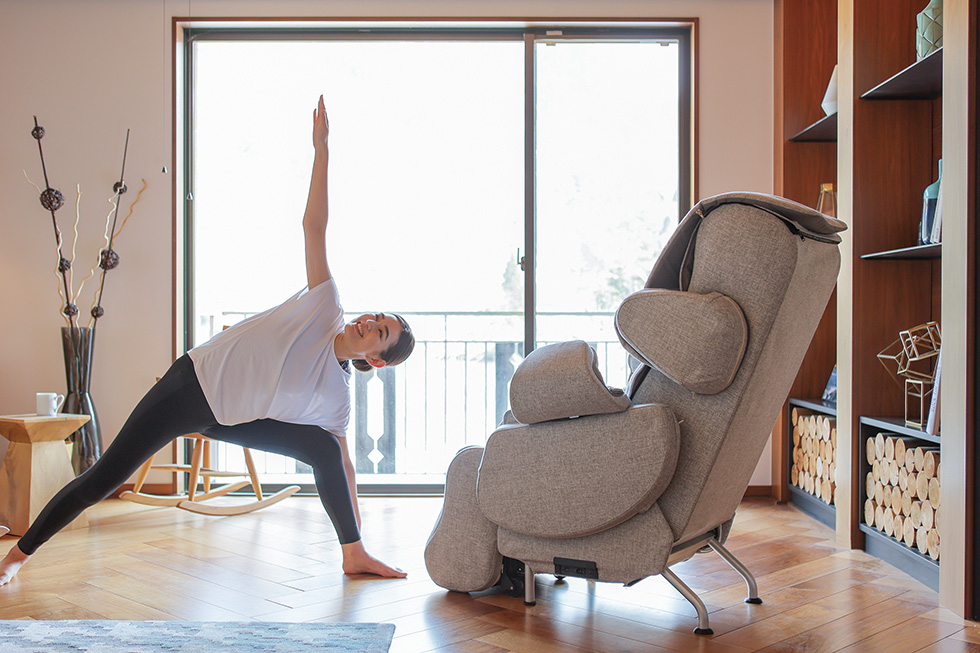 SpecIfIcatIons
Product Name
AI Inada Chair CALABO HCP-AIC100
Color
Beige (CW)/Grey (HD)
Exterior Fabric
Synthetic Fiber
No. of Automatic Programs
6 Programs
Full Body Program, Sole Refreshment Program, Neck/Shoulder Program, Program for Stretch for Posture, Defence Body Program, Activity Body Program
No. of Preferred Programs
3 Programs
<Upper Body> Kneading, Kneading and Tapping, Air
<Lower Body> Sole Kneading, Air
<Roller/Shiatsu> Full Body, Shiatsu
Main Unit Dimensions
Width Approx. 85 cm (33 inch.) x Depth Approx. 119 (175) cm (47 (69) inch.) x Height Approx. 120 (72) cm (47 (28) inch.) Numbers in parentheses for depth and height are when the chair is in maximum recline.
Reclining Angle
Stepless (electric motor reclining) from approximately 110° to approximately 165° relative to the horizontal plane
Weight
Approx. 63 kg (139 lbs.)
Heater
Yes
Main Unit Dimensions