New decision
Although Inada had established a path to success as an all-round manufacturer of beauty and health, he found new determination in the wake of meeting one person. It was Mr. Kazuo Inamori, President of KYOCERA Corporation.
At that time, Mr. Inamori's words were deeply etched into Inada, who was successfully advancing as a businessman, centering on integrated management with employees.
Until then, Inada had been conducting management based on his thinking of what the company should be for employees and society, for such purposes of "making a well-run company" and "growing the company."
However, while coming into contact with Inamori's philosophy, he started to review his values as a manager: "What is right as a human being?" "What is my life's mission?" Then, his innermost feelings welled up.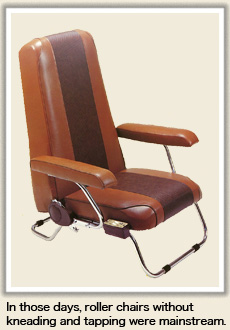 When thinking back on his life, he wondered what had made his present self.
He was sure that it was the massage chairs he came up against and started business in when he was 22.
He asked himself who would have thought that his businesses would no longer expand since the penetration of massage chairs became nearly flat in 1980.
He thought, "Have I really produced fascinating products?"
With these thoughts turning over in his mind, he thought massage chairs might be something unique of Japanese origin, that was, "the only Japanese-born cultural health product." He felt newly inspired that massage chairs were products that promoted health in comfort from the viewpoint of preventive medicine, among this healthcare equipment manufacturer's in-house products.
Decision as a manufacturer specializing in massage chairs
Massage chairs, which worked as a bridge across his life as a manager, were needed for health. Inada wanted to make valuable products for smiles on people's faces not only in Japan but also around the world.
Inada decided to spread massage chairs in Japan and around the world as his life's mission.
Inada turned this thought to the company's employees.
The employees were surprised at and some naturally opposed focusing only on the business of massage chairs with all the success of other business lines.
However, Inada passionately kept on speaking to the employees.
"In order to make massage chairs as truly valuable products for the world and people, there is a need to devote our undivided attention to and specialize in massage chairs.
I have a dream of building up the company with all employees, who share the dream that every home around the world must have one massage chair, as it is truly valuable." Overcome with a feeling for Inada's unshakable resolve and enthusiasm, the employees came to have the same feelings and started to move forward devoting themselves to the single business of massage chairs.
Overseas Sales Dept.
tel.+81-6-4807-9271
Copyright © 2013 Family Inada Co., Ltd. All Rights Reserved.