Remote Control
Healthcare Programs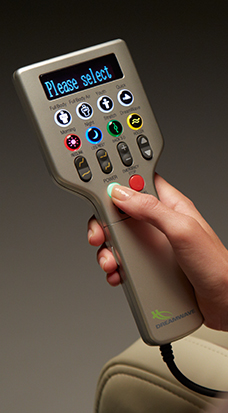 A professional massage therapist uses his techniques not only on parts of the body showing symptoms, but searches for effective points to massage all over the body. INADA DREAMWAVE's Healthcare Programs function is the result of studying and incorporating this approach. Healthcare Programs can easily be activated from the front of the remote control.
Treatment range

Rollers move approx. 72 cm up and down, with the top roller moving approx. 5 - 19 cm side to side and the bottom roller approx. 9 - 16 cm side to side, providing an exacting and effective treatment to muscles and Shiatsu points.
Shiatsu point locator with optical sensor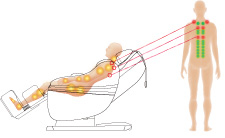 Though the location of Shiatsu points varies by body type, this feature uses an optical sensor to automatically find them. Finding the Shiatsu points creates a more comfortable and effective massage.


Full Body

(approx. 15 min.)*2
The basic program to relieve fatigue with a full body massage using rollers and air.


Full Body Air

(approx. 15 min.) *2
A full-body massage using air and no rollers. This is recommended for the comfort of those who do not like mechanical massage.


Stretch
(approx. 8 min.)*2
*1 An industry first! This program stretches the spinal column with a full-body stretch function. Recommended for people wanting to feel refreshed.


Swing

(approx. 15 min.) *2
This program is recommended for those who want to relax. Using this program after any massage function regulates muscle balance.


Youth

(approx. 8 min.)
This low-stimulus massage program eases muscle stiffness and relieves fatigue of young people living in modern times without putting strain on the body.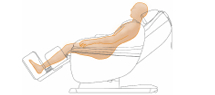 Quick
(approx. 8 min.)*2
This program provides a quick healing massage for those with little time in morning or evening and those who just want to take a few minutes to relax.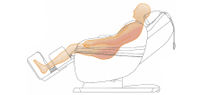 Morning
(approx. 15 min.)*2
This program uses centripetal massage—a technique that moves toward the center. It is recommended for people who have difficulty waking up in the morning or are still tired from the day before.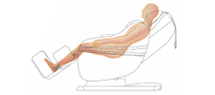 Night
(approx. 15 min.)*2
This program uses centrifugal massage—a technique that moves away from the center. It is recommended to ease the fatigue and tension of the day before sleeping.
*1 Information based on our research as of November 2007
*2 Treatment time is an approximation based on a person 170 cm tall.
Actual treatment time may differ depending on body type.
Overseas Sales Dept.
tel.+81-6-4807-9271
Copyright © 2013 Family Inada Co., Ltd. All Rights Reserved.